As you plan your classic Tanzanian safari for July or August you should include visits to the iconic game parks on the Northern Circuit: the Serengeti, Ngorongoro, Lake Manyara and Tarangire National Parks. Each of these parks has its own unique landscape and environment, and a visit to each of them offers you a diverse and rewarding experience during your tour package to Tanzania. At this time of year, the Mara river crossings are not to be missed.
See the migration: Mara river crossings in the Serengeti
The Mara river crossings take place in the Serengeti National Park and are probably the most sought-after wildlife experience on Earth. The crossings are a true image of the Serengeti and a classic African safari. Happily, they coincide with the July-August summer vacation period.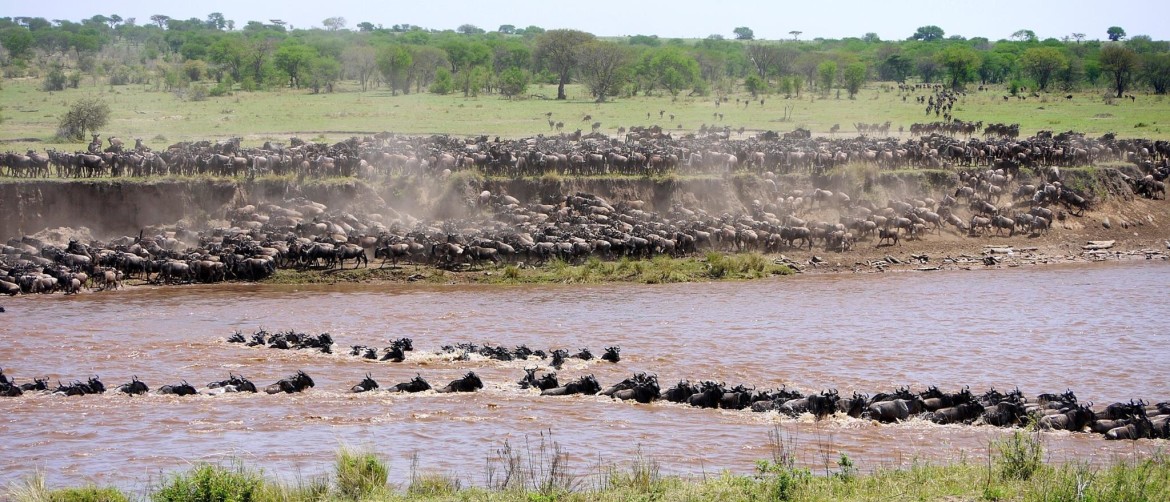 The crossings commence in mid-July, as the scattered herd begin to emerge in single file at Kogatende area, Northern Serengeti. Until this point, the herd has been fragmented into splinter groups as it pressed its way north from the southern grass plains. Here, the numbers convene again and the wildebeest face one of the most physically challenging hurdles in the migration cycle. The river itself has steep vertical drops on both sides, and as the herds converge, the wildebeest must navigate each other, the land predators trailing them, and the crocodiles lying in wait in the water. The sheer number of wildebeest, the dramatic leaps they make, and the swift kills carried out by crocodiles combine to make an awe-inspiring sight. The images are world-famous.

On safari during this time, clients will spend their days driving along the Mara river, hoping to catch sight of at least one of these crossings. As well as the crossings, the river itself is teeming with wildlife. Common sightings in this area include lions, leopards, hyena, buffalo, elephants and antelopes.
Choosing your package to Tanzania in July and August
If you are planning an African safari in July or August, consider a tour package that is built around the Mara river in the north of the Serengeti, Tanzania. Make sure to stay there a few nights. We have prepared a sample itinerary that includes the north of the Serengeti.
Tip: A video of our safari which brought us to Kogatende/ the Mara River in the north of Serengeti last August: