In this article
Table of contents
Articles in this category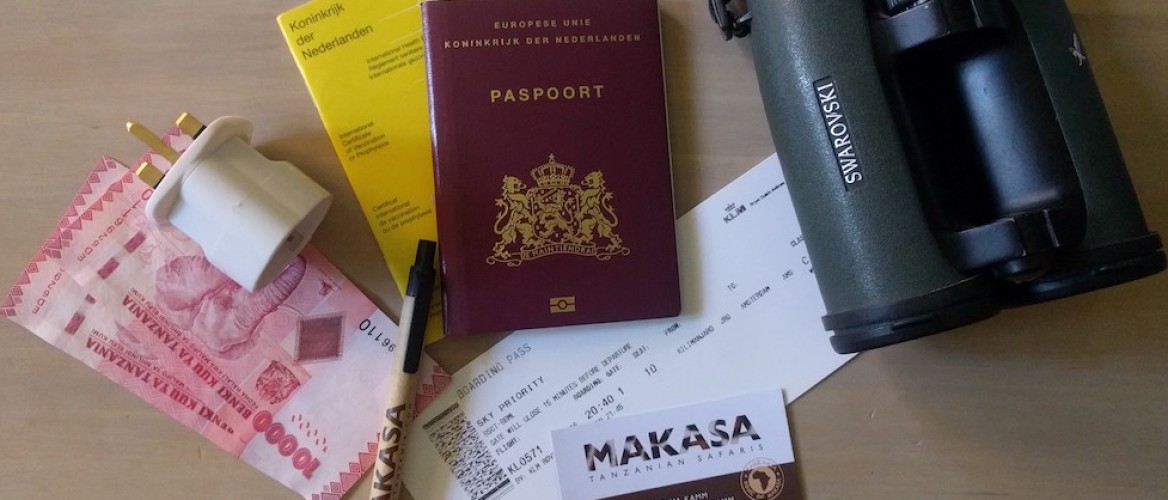 Tanzania Safari Packing List
Your holiday is coming up and it's time to pack! You may not know what to expect from a Tanzanian holiday, so we have drawn up this packing list to help you. Of course, you will need the basics that you always take when travelling, but on safari there are also some specific items we think are handy to have with you as well.
We would like to ask you to pack as lightly as possible. Really think about what you need and leave the less important things at home. Smaller duffle bags fit much better into safari jeeps. Also, if you have a domestic flight in your itinerary you can only take 15kg of checked-in luggage per person. That may seem impossible, but you will manage!
What to pack for a Tanzania Safari?
Luggage:
Duffle bag instead of suitcase (soft cases fit better in the jeep than hard cases)
Smaller day backpack for personal belongings
Important documents:
Passport (valid for at least 6 months)
E-visa
Ticket / boarding pass
Cash (US Dollars)
Bank cards
Vaccination booklet
Travel insurance policy
Clothing:
Long pants, for evenings or early mornings
Shorts/ skirts/ dresses
T-shirts, polos, short sleeve tops
Long sleeve shirts for evenings or early mornings
1 or 2 sweaters, for evenings or early mornings
Underwear, socks & nightwear
Shoes (sneakers, hiking shoes)
Slippers / sandals
Belt, scarf, jewelry
Swimwear
A laundry bag (no plastic 🌿)
Accessories & Medication:
Toiletries
Contact lenses / reading glasses
Hat, cap, headband, scarf (against the sun and dust)
Sunglasses
Suncream/protection, also for lips (min factor 30)
Mosquito repellent (DEET)
First aid kit: thermometer, painkillers, plasters, iodine, disinfectant wipes, gauze.
Malaria prophylaxes
Personal medication
Reading books / e-reader
Camera & gadgets:
Travel adapter (English 3-plug)
Photo camera / video camera
Different lenses *
Camera memory card, battery and charger
Phone & phone charger
Ipad / tablet & charger
Possibly GoPro or other gadgets
Useful Safari must-haves:
Binoculars (8×32 or 10×42)
Flashlight
Pocket knife (handy during the picnic lunch)
Tasty snacks or energy bars (you will get good meals, but some people like their own snacks as well)
Travel alarm clock (or telephone)
Tanzania guide / wildlife books / bird books
Puzzle booklet or other entertainment for in the jeep
* for the safari we recommend a 70-300mm lens, but if you really want to go all-in the bigger the better, a 600mm lens is great for beautiful close-ups of wildlife!
👉🏽 Mosquito nets, towels, beach towels, shampoo and soap are provided by accommodations. You do not have to bring this.
🌿 Please note: plastic bags are prohibited in Tanzania.
✅ Check, ✅ check, ✅ double check. Have you packed everything? Then we are ready to receive you in Tanzania! Karibu! (Welcome!)